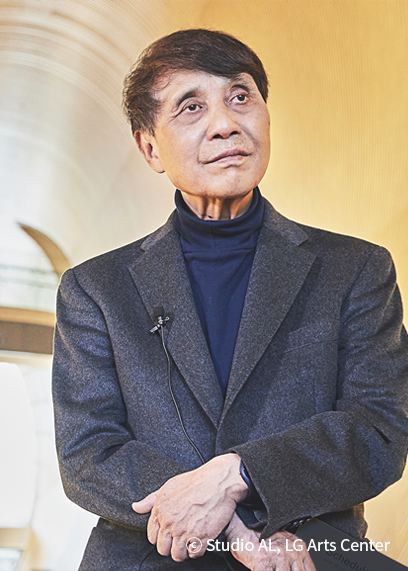 ArchitectTadao Ando
Tadao Ando (b. 1941) is an architect who takes transparent materials such as glass and exposed concrete to create a concise, simple, yet strong presence. He is a world-famous master in architecture, a laureate of the 1995 Pritzker Architecture Prize.

His most renowned works include 'Chapel on the Water', 'Church of Light', and 'Naoshima Contemporary Art Museum'. In Korea, his works include 'Museum SAN', 'the Bonte Museum', and 'Glass House'.
"
My wish was to create the one and only performing arts center,
where the lobby, the atrium, and the passage each have visibly distinctive features as a space of their own.
I hope it will become a space that makes the hearts of visiting audiences beat.
"

Concept
The design of the LG Arts Center fully reflects the architectural philosophy of Tadao Ando,
which is to let nature blend into the architecture.
The design is based on three concepts: TUBE, STEP ATRIUM, and GATE ARC
TUBE

The TUBE is a circular passage that diagonally runs through the ground floor of the LG Arts Center.
With the 10-meter-high Tube in between the LG Arts Center in the east and the LG Discovery Lab in the west.

It is connected to Seoul Botanic Park and LG Science Park and attracts audiences on the ground floor into the building.
The Tube symbolically shows that the LG Arts Center is a space where art, science, and nature converge.

STEP ATRIUM

'STEP ATRIUM' is a space consisting of staircases that connect Magongnaru subway station to the third floor of the LG Arts Center.
This allows visitors convenient access to the main lobby and the auditorium.

If the TUBE connects the ground space horizontally, the STEP ATRIUM connects the underground area and the upper levels vertically.

GATE ARC

'GATE ARC'is a curvilinear wall that the audience faces in the lobby.
It creates a dynamic and unified facade for the space, serving the symbolic role of a gate that invites audiences to each performance hall.